For more than 10 years, PC developers and manufacturers have always desired to showcase their prowess by opting for stylish cases with intricate features. As a matter of fact, majority of the PC manufacturers have embraced this new concept and we currently have cases that are fitted together with LED the illumination as well as sci-fi curves.
Tempered glass cases are perfectly suited for people who want to balance between a classy appearance and decent pricing while still offering optimal protection to your PC. These cases usually add a touch of style and elegance to your gadget without necessarily making it bulky. In addition, it's tougher and provides great impact resistance as compared to ordinary glass. Tempered glass cases for PCs are also better at containing noise when compared to plastic and aluminum panels. Below is a comprehensive review of Top 10 Best Tempered Glass PC Cases In 2019:
10. Thermaltake Core P5 Black Edition ATX Gaming Computer Case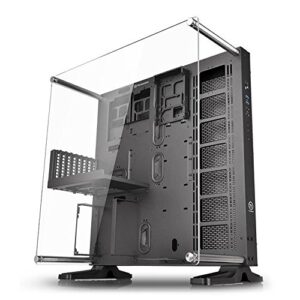 This is certainly one of the top ranked tempered glass cases from Thermaltake. This case features the open frame design which will allow you to see everything that's in the chassis. The case also offers three-way placement design for wall mount, vertical or horizontal layouts of the hardware within the frame itself. Coming with a lot of support features such as 2 USB 2.0 ports,2 USB 3.0 ports and HD audio input on its front panel, one can always create the PC of his/her dreams using this PC case. The model comes with a 3-year warranty which makes it an in-demand accessory at several hardware stores all over the world.
9. Nanoxia Project S Tempered Glass Case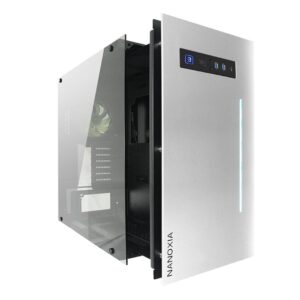 This ultra-modern and contemporary styling case will offer a sophisticated appearance to all room décors. It features a top scratch resistant glass panel which allows a clear interior view. The other notable features include HDD brackets, RGB LED strip and magnetic dust filter. It's also spacious enough for holding up to eight (8) fans, 170mm CPU cooler, 400mm graphics card and many more.
8. NZXT S340's Mid Tower PC Case
In case you are considering tempered cases, then the NZXT computer case should be on your list. This case has strong glass that's able to withstand a heavy blow and it's easy to clean. You will certainly love its cooling mechanism. You can set a set of 120 milimetre or 140 milimetre fans on its front part, while the back section can accommodate one of this. The case also provides space and great ventilation. The maker provides enough room at its front section for installing a 240 and 280 millimeter radiator.
7. Rosewill ATX's Computer Case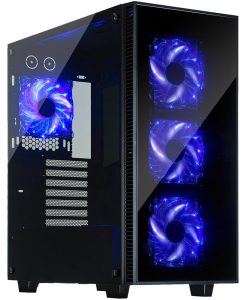 Rosewill is yet another maker with one of the top-ranked PC cases. This model consists of consolidated glass case both on the sides and front section. With its integrated design, users can rest knowing that his/her PC isn't vulnerable to damage. The tampered glass case is 5 mm thick. This is factor that helps with noise reduction, more so when fans are running. In addition, this amazing tower has the detachable filters fitted at the bottom, front and top.
6. SilverStone's Technology Tempered Glass Case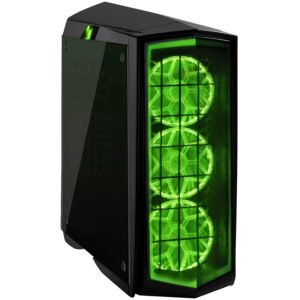 This gaming case is built specifically for gamers. Its front mesh grill is designed from super car intake's grill. The interior has 3 140mm fans along with those LED light strips designed for visual effect. In addition, the case has positive air pressure formats and removable filters for improved dust protection capability along with the cable management system and 8-in-1 fan hub. The tempered glass case stands at 8.7 by 22.1 by 22.5 inches.
5. DEEPCOOL's EARLKASE RGB Glass Case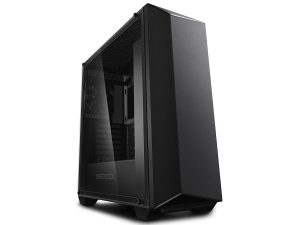 The one millimeter thick fingerprint and scratch resistant metal come with a very beautiful tempered glass panel. Its unique appearance makes the case to look more appealing in the FBI SUV. Its claim to this fame is the expandable RGB light system and the ability to support between 280mm and 360 mm radiators. The pre-fabricated holes will allow DIY technicians to apply some of their personal touches to the interior. In short, the DEEPCOOL EARLKASE RGB is among the top-ranked tempered glass cases that you can get on the market today.
4. Cooler Master's MasterBox Glass Case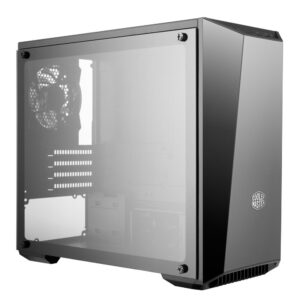 This 4 milimetre thick tempered glass panel provides the user with the ideal view to the interior parts of the computer. You'll be able to see the three pre-installed fans, 1 to 3 cable splitters, and the remaining parts of your hardware. Its maximum cooler's height is 158 milimetre and the maximum card's length is 380 milimetre. The 2-year warranty offered by the manufacturer is an additional bonus.
3. Corsair Crystal's Series Glass PC Case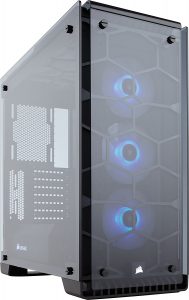 If you happen to be a purist, then the Corsair Crystal glass case is yours. Besides having all 4 sides made up of tempered glass panel for pure looks, the case has room for three (3) RG fans and RGB controllers. Included in this package is cable routing channels and Velcro strap for cable management. In addition, the case has removable fan trays that are compatible with radiators that range in size between 120mm – 360mm.
2. Phantek PH-ES217E_AG Dual Glass Cases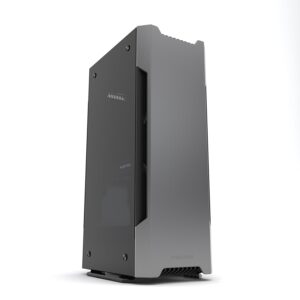 The Phantek PH-ES217E case has caught the attention of many people for a good reason. This case consists of straight lines and edgy corners, which reminds us of legendary tempered PC cases. The front section is made of aluminum plates whereas the sides are made from the tempered glass. In case you are searching for a case that works well and it still has a sleek design, then the Phantek PH-ES217E PC case is the right way to go.
1. Enermax's ECA3520 ATX Case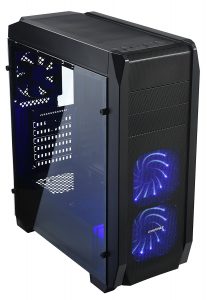 After showing it for a few months, Enermax finally released the new ECA3520 with tampered case. With this PC case, the company emphasized on offering a quiet operation of internal components. Its top part of this product can be detached so as to enable the users to install additional fans. Furthermore, you can also add a 360 milimetre radiator, which helps to reduce sound dampening aptitudes of this case.
Final Verdict
When you're ready to purchase a tempered case, you will be better equipped to make decisions about the right model by using the above review. Whatever your budget and needs, there's always a tempered case that will meet your personal expectations while still delivering performance and quality. Stick to any of the above 10 glass PC cases, and you will know that you're getting a great gadget when time comes to upgrade the existing tower. Happy shopping!
More Content:Top 10 Best Protective iPhone X Cases or iPhone 10 Cases 2018